Resources
On this page you will find several resources and links regarding Reverend Richard Johnson and the first Christian service in Australia.
Australian Dictionary of Biography - Johnson, Richard (1753 - 1827)
by K.J. Cable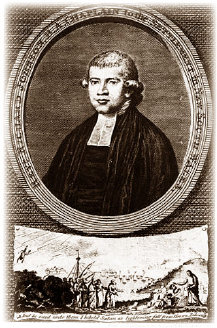 Read this biography of Richard Johnson by following the link below.
An account of the first Christian service in Australia
Read this account of the first service held on Australian soil.
Richard Johnson's Bible
Richard Johnson's Bible and prayer book are kept at St Philip's York St Anglican Church in Sydney.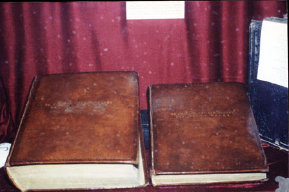 Letters of Richard Johnson
Many of Richard Johnson's letters are availble for you to read. They provide a remarkable insight into the life and times of Australia's first minister.
Letters of Rev Richard Johnson Part I (PDF) >>>
Letters of Rev Richard Johnson Part II (PDF) >>>
A hymn about Richard Johnson
by John Newton
Below is a hymn written by the author of Amazing Grace, John Newton for Australia's first Chaplain Richard Johnson to the tune:
"Woodlands" (Tell out my soul):

"The Lord who sends thee hence will be thine aid:
In vain at thee the lion Danger roars;
His arm and love shall keep thee undismayed
On tempest toss-ed seas, and savage shores.
"Go, bear the Saviour's name to lands unknown,
Tell to the southern world his wondrous grace;
And energy Divine thy words shall own
And draw their untaught hearts to seek his face.
"Many in quest of gold or empty fame
Would compass earth, or venture near the poles:
But how much nobler thy reward and aim
To spread his praise and win immortal souls."
An address to the inhabitants of the colonies
by Richard Johnson
Read what Richard Johnson wrote to those under his care in 1792.
What Rev Johnson wrote before accepting his position
Read what Richard Johnson wrote before he accepted the role of Chaplain to the colonies.
Books Rev Johnson brought with him
See the full inventory of books Rev Johnson brought from England. An intriguing insight into the literature he believed he needed for his work in the colony.
Richard Johnson Square, Sydney - 4 minute video
This short video provides insight into Richard Johnson Square.
A speech by Dr Graham McLennan on the 226th anniversary
Read the speech by following this link.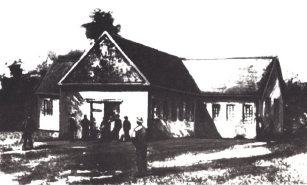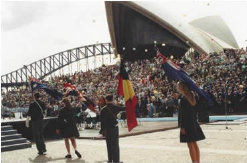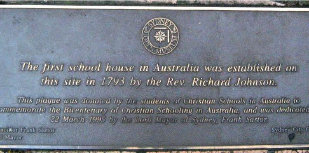 Thirty Second Radio CSA's
To be aired during the year.

To be played the week prior to the First Sunday in February

Richard Johnson: Dr Graham McLennan Interviewed by Neil Johnson
Listen to the full 45min interview on Richard Johnson and National Christian Heritage Sunday.

INDIGENOUS
The Coming of the Light
On 1 July each year, The Coming of the Light is celebrated by Torres Strait Islanders, marking the arrival of Christianity to the region. On 1 July 1871, representatives from the London Missionary Society arrived at Erub (Darnley Island) in the Torres Strait. Follow the link below as three Torres Strait Islanders discuss its significance in their own words in this digital story from our latest exhibition Islands.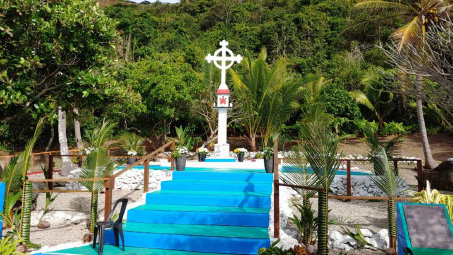 Torres Straight Islanders celebrate 150 years since the arrival of Christianity: Eternity News.
Australia's First Indigenous Evangelist?
Bennelong's third wife Boorong (Abaroo) had a boy named Dickey probably born in 1803. Boorong had been cared for by Mary Johnson, wife of Australia's first Chaplain, Rev Richard Johnson.
Tribal Map of Australia
Fire in the Outback by John Blacket (Free eBook)
God took the outcasts - rejected and despised Australian Aborigines - and transformed whole communities in a few days, first on an island in north Australia and later across the north, centre and west of Australia. This fire of revival transformed health, hygiene, attitude to work and education, and brought true reconciliation and love between families, clans and tribes that had been fighting for many generations.
More Stories from the CHR Indigenous page
Stories of Revival in Australia and Beyond
from the CHR website at